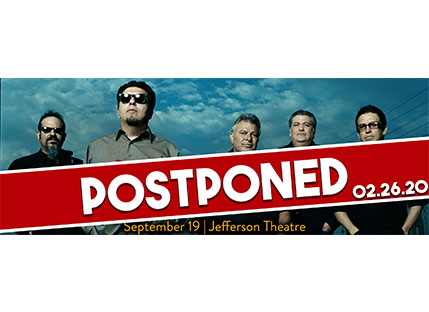 Los Lobos 45th Anniversary Show POSTPONED
September 19, 2019 • 8:00 pm
POSTPONED TO FEBRUARY 26
Three-time Grammy Award-winners and Rock and Roll Hall of Fame nominees Los Lobos will perform at the Jefferson Theatre, February 26.
Doors 7:00 p.m.
Tickets are on sale now and can be purchased at ticketmaster.com.
Los Lobos are on their tour celebrating 45 years of high-quality American music. These shows feature an acoustic set followed by an electric set that covers music from the last four decades.
A Mexican-American band from East L.A., Los Lobos are a legendary rock band who honor their Mexican background by flavoring their rock and roll sound with Tex-Mex, Cumbia, Boleros and norteños, while also inflecting their music with American Blues, Zydeco, Country and Folk. All incredible instrumentalists, Los Lobos have been entertaining audiences since 1973 and, in 2011, were awarded the Latin Grammy Lifetime Achievement Award.
Back in 2003, when Los Lobos was celebrating the 30th Anniversary of their humble beginnings as a garage band in East L.A., Rolling Stone summed up their distinctive, diverse, freewheeling fusion of rock, blues, soul and Mexican folk music: "This is what happens when five guys create a magical sound, then stick together…to see how far it can take them." Originally called Los Lobos del Este (de Los Angeles), the group came together from three separate units. Lead vocalist/guitarist Hidalgo, whose arsenal includes accordion, percussion, bass, keyboards, melodic, drums, violin, and banjo, met Perez at Garfield High in East LA and started a garage band. Rosas, who had his own group, and Lozano launched a power trio. "But we all hung out because we were friends and making music was just the natural progression of things," says Perez, the band's drummer. "Like if you hang around a barbershop long enough, you're going to get a haircut."
Perez, once called their powerhouse mix of music "the soundtrack of the barrio." Four decades, 3 Grammys -11 nominations, the global success of "La Bamba" and thousands of rollicking performances across the globe later, Los Lobos is surviving quite well — and still jamming with the same raw intensity as they had when they began in that garage in 1973.
The critically acclaimed Kiko album was released in the late spring of '92, it was embraced by fans and hailed by critics as Los Lobos' defining moment, the album that put Los Lobos back on the innovation track. The album, wrote All Music Guide, "demonstrated the breadth of their sonic ambitions." Comments the band's Cesar Rosas, "With that album we didn't want to be tied down to all the conventional ways of recording, so we started experimenting and making up sounds." That is where they remain today.